David Zwang of Zwang & Company joins us for an initial look at an interesting new screening software development that significantly improves the quality of inkjet imaging. The software referenced is only available as an option from an OEM as part of their RIP, or as a component in a custom-developed (bespoke) hybrid inkjet printing solution. One more item to place on your checklist when talking to OEMs about print quality.
In the WhatTheyThink.com series on Bespoke Process and Manufacturing, we have been looking at the drivers for bespoke and hybrid production solutions for labels and packaging. With some of the latest introductions by Global Graphics, we believe that rate of adoption may increase.
For those of you not familiar with Global Graphics, the company has been one of the primary RIP OEMs, along with Adobe, since 1988 with its formerly ScriptWorks, now Harlequin, RIPs. Unlike Adobe, Global Graphics is a comparatively small company and has always used that to its advantage in developing unique state-of-the-art solutions. As an OEM, one of its largest and long-term clients is HP which includes Harlequin RIPs in most of their production presses. Global Graphics also works with other printer manufacturers.
Global Graphics has always prided itself on developing software solutions that address quality and productivity issues. The Harlequin Host Renderer is the fastest PDF renderer on the market, which is what makes it perfect for high-performance production inkjet presses. For years, the Harlequin ColorPro color engine has supported extensive color management functions beyond the normal ICC profile support, to include device link, HiFi and extended gamut support, which has made it an ideal choice for labels and packaging. Global Graphics provides multi-level screening in two separate products, the Harlequin RIP and ScreenPro, which is a standalone screening engine launched in 2016. Multi-level screening varies the amount of ink delivered from the inkjet head in any one location.
From 2012, with the rapid development and adoption of production inkjet technology, new inkjet press vendors started approaching them to see if they could develop a solution that would address some of the inherent anomalies in inkjet imaging. Global Graphics started working with many of them individually to find fixes for each of them. During the process, the company realized that many of the fixes were very similar, so it started to work on a solution that could address over 80% of the common problems in inkjet output quality. What it found can be seen in the magnification examples below.

Global Graphics found that "irregular drop positioning leads to drops 'randomly' coalescing on the media," according to Harlequin CTO Martin Bailey. They were able to break it down into two distinct groups of media behavior. The first is reasonably absorbent and/or wettable media like paper and inkjet coated, etc., which image with a grainy appearance. The second is non-absorbent and poorly wettable media like flexible plastics, metal, etc., which produce a mottle effect triggered by ink shrinkage during drying and curing.
The following image shows the type of mottle you can see with inkjet on flexible packaging media, and other non-absorbent materials.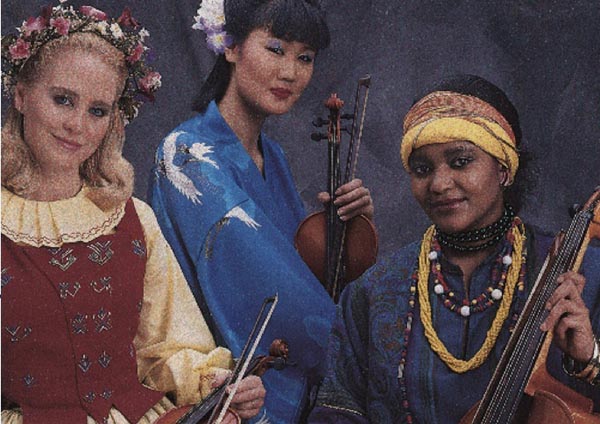 While most of the equipment manufacturers were looking at solving these problems either mechanically or through ink-limiting techniques and ink development, Global Graphics decided to look at using its years of screening expertise and developed halftone screening that would mitigate most of these effects. The first case is addressed with a screening called Pearl, and Mirror is used for the second case.
The test image below, shows a magnification before and after using Pearl screening.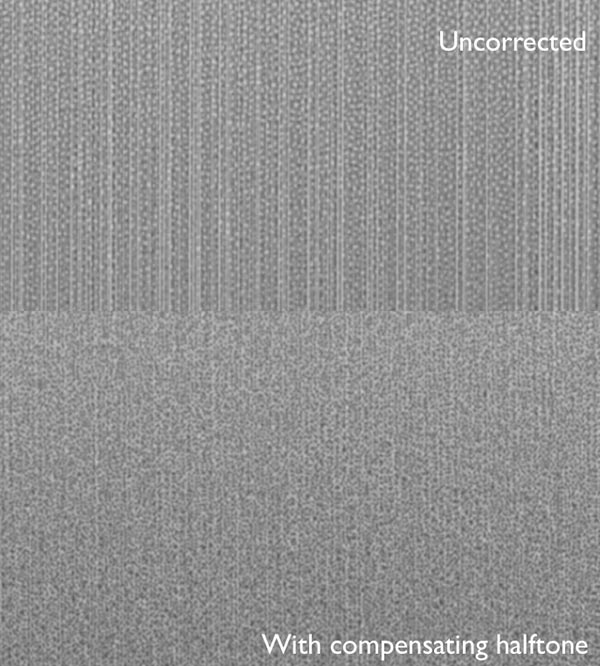 This solution has been made available to both the Harlequin RIP and ScreenPro OEM clients, like the Durst Group, which is using the Harlequin RIP and the ScreenPro screening engine to optimize data driving the new Durst Tau 330 digital and packaging presses, Xitron, who offers RIP solutions to many inkjet solution manufacturers, as well as HP and many of the other Harlequin OEM clients.
They are now offering Advanced Inkjet Screens to other inkjet printhead and press manufacturers as a replacement for existing screening engines regardless of the RIP they are using in their DFEs. This is a significant development and stands to increase the adoption of production inkjet in higher quality print and packaging applications across many different media choices.
For those of you who grew up with film or glass screens or recall the "screening wars" of the 1990s, you will recall the debates of which screen shapes and dot placements provided the best output in different conditions. In discussing this new development with Bailey, it seems we are coming full circle, and what was old is new again…
More to Come …
I would like to address your interests and concerns in future articles as it relates to the Bespoke manufacturing of Print, Packaging and Labels, and how if at all it drives Industry 4.0. If you have any interesting examples of bespoke manufacturing, I am anxious to hear about them. Please feel free to contact me at david@zwang.com with any questions, suggestions or examples of interesting applications.
This article originally appeared on WhatTheyThink.com. WhatTheyThink is the global printing industry's leading source for unbiased market intelligence. Copyright © 2018 WhatTheyThink. All rights reserved. Reprinted with permission.