Sponsored by Miyakoshi
On June 16, Miyakoshi Printing Machinery Co., Ltd. (Miyakoshi), launched the MJP30AXF web-fed digital inkjet press focused on the short-run, flexible packaging market. With a range of offset packaging offers from UV flexible packaging devices to folding carton and even corrugated box making plus digital label presses, Miyakoshi is no stranger to the packaging market. Their newest device positions Miyakoshi to enter another high-growth inkjet market.
The main flexible packaging segments are food and beverage, pharmaceutical, and personal care with the food and beverage segment holding the maximum world-wide market share and highest growth rates. Miyakoshi has positioned the MJP30AXF for success in the fast-growing  flexible food and beverage segment by using water-based, pigment inks that the company says are safe for food packaging. Food safety regulations vary by region, but we interpret this to mean safe for packaging applications where the ink will not be in contact with the food. In addition, the company has provided quality features that are important to brand-sensitive packaging customers including:
Corona pretreatment and primer coating that creates film print compatibility;
CMYK plus double white ink for vibrant color reproduction and excellent coverage/concealment;
Dual drop piezo print heads with drop sizes of 2 and 3.5 picoliters
Native 1200dpi resolution for excellent image quality and the small text legibility required for packing applications;
Automatic fine registration control;
Nozzle compensation to adjust for print head "jet-outs," banding, gaps or other artifacts.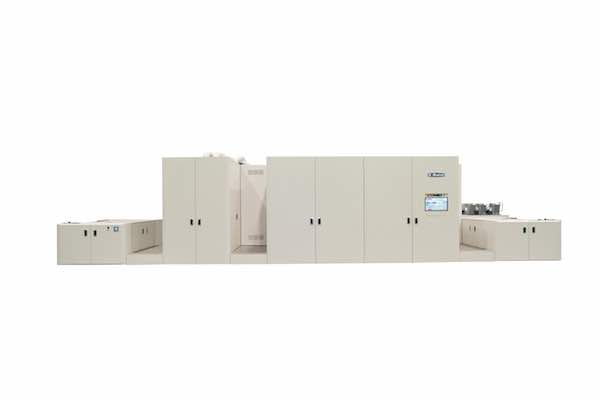 Miyakoshi MJP30AXF Digital Inkjet Packaging Press
The flexible packaging market is facing requirements to support a greater degree of customization, localization, and even personalization. This is seen to a greater degree in Europe where the need to tailor for multiple countries and languages drives down run lengths, but the U.S. and Canada are also seeing a trend toward more customized packaging. In the U.S., customization requirements may be driven by differences in state regulations. While brands are increasing the number of SKUs they manage to support customization trends, as well as demands for new flavors, they are also trying to reduce inventory carrying costs and wastage through just-in-time production. This requires faster time to market for packaging solutions to match production schedules for the food or beverage products.
Miyakoshi has prepared the MJP30AXF for these market requirements through speed, web width, and the ability to batch and impose many jobs into the same print run. Because it is a digital device, the press enables full personalization including text, image variations, and barcodes used to manage print production and finishing or for use in the retail inventory and purchase process. Barcodes or QR codes must be unique to each piece. Different windowed designs can be produced with digital white ink with excellent concealment. Because black, cyan, magenta, and yellow inks are printed with tight registration and dried before a double layer of white ink is jetted, there are no white lines in pieces where windows are perforated. This supports a wider color gamut and cleaner whites.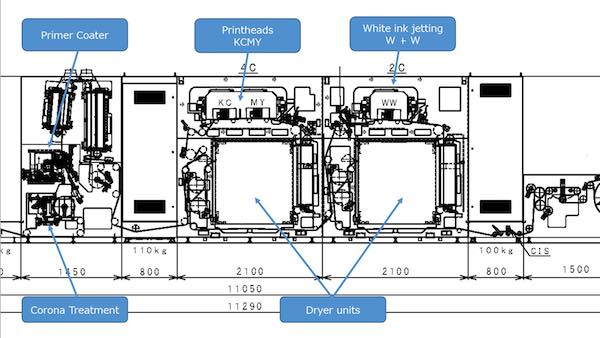 Miyakoshi has sized the press to fit the productivity needs of flexible packaging customers. The web width of 31 inches/790 mm supports a maximum print width of 30 inches/750 mm. However, since this is a continuous web-fed device, print length is limited only by the length of the roll itself or restrictions of postpress devices. An inline corona pretreatment and primer coating station enables compatibility with a wide array of transparent films and laminates such as PP, PET, and Nylon, with thicknesses from 12 to 100 microns. High coverage and speeds of up to 164 feet/ 50 meters per minute are also supported through an updated hot air circulation drying system.
Miyakoshi believes that the MJP30AXF, by using aqueous pigment inks, will deliver competitive running costs. Also, the choice of printable substrates provides efficient production with the added benefits of durability and temperature resistance within barrier levels needed for food packaging.
Miyakoshi also stresses the value that their new press delivers over analog devices in reducing waste, both through enabling shorter runs and by printing multiple jobs continuously with no gap between jobs. In addition, it eliminates the platemaking process and ink change-overs causing the waste inherent in traditional print. Aqueous inks, by their nature, are more sustainable than inks used for analog packaging or UV inks used for other digital inkjet processes.
Miyakoshi is currently taking orders for the new press and expects to begin shipping to the U.S as soon as machine safety certification is completed.
You can learn more about the Miyakoshi MJP30AXF web-fed packaging press at https://miyakoshi.co.jp/mjp30axf/ where you can also request print samples.