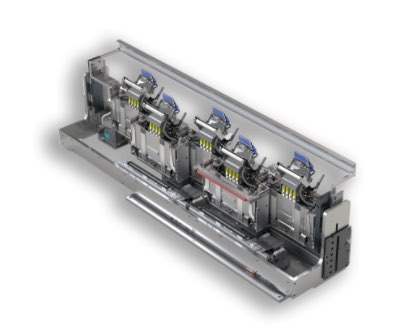 SIGRA 1000 42.5-Inch Mono Imprinting Solution
Simply Inkjet announces the immediate availability of its SIGRA 1000 mono imprinting solution. The new technology enables existing users of analog imprinting systems with an upgrade path to a solution that delivers new levels of quality, speed and cost-effectiveness.
"A component-based inkjet system like the SIGRA 1000 allows us to integrate and deliver a tailored and efficient print manufacturing solution for customers looking to upgrade their existing equipment or start on a new hybrid digital journey," said Simon Cooper, Managing Director of Simply Inkjet. "Our mission is to create solutions based on business and application needs so we can help companies increase manufacturing flexibility, lower operational costs, maximize efficiency and add value."
The SIGRA 1000 helps companies redesign their imprinting process by supporting the migration of offset or flexo work to digital. The solution features a Colordyne ChromaPlex AP print engine powered by Memjet's DuraLink technology. The modular design of the system components allows Simply Inkjet to offer scalable print widths up to one meter (42.5 inches) and can also be configured for full colour print production. Simply Inkjet's SIGRA 1000 is designed for use in many print segments including direct mail, packaging, book printing, transactional printing and more.
"We are excited to partner with Simply Inkjet," said Taylor Buckthorpe, Director of Sales at Colordyne. "The company understands the value inkjet can bring to a business, especially when it is implemented cost-effectively. Simply Inkjet is dynamic in offering flexible and scalable solutions, which allows them to meet individual customer needs."
For more information on Simply Inkjet and SIGRA 1000 visit www.simplyinkjet.com.