Hybrid, or "multiple connected printing and finishing technologies," have been around for decades, although they had not been as prevalent as they are today. With the growth and availability of disparate inkjet components and solutions, combined with the growth of machine and process digitization, bespoke solutions, or "custom designed application-based printing," is the natural extension of the same hybrid capabilities.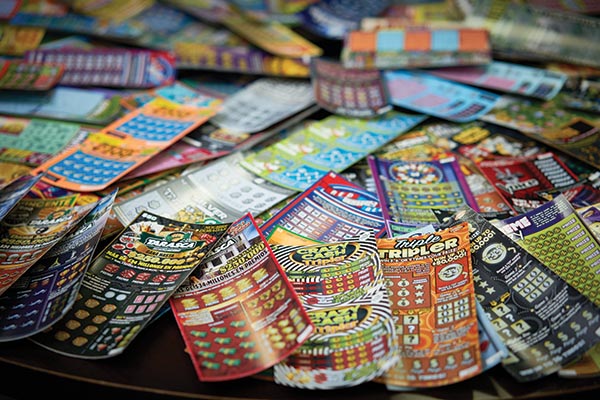 Historically, these types of solutions were relegated to flexo transports combined with other imaging, embellishment, and finishing technologies. I remember seeing my first example of this in the early 1980s, designed for the production of cigarette packages, decorative paper cups, and an assortment of party goods. In this case, the flexo printing was joined by gravure, silkscreen, and offset combined with a variety of foil, embossing, and die cutting all inline and ready for nearline assembly and gluing.
Where Are We and Where Are We Going?
Fast forward to 2019, when I had an opportunity to visit IGT (International Game Technology PLC) in Oklahoma, where they produce lottery and gaming tickets.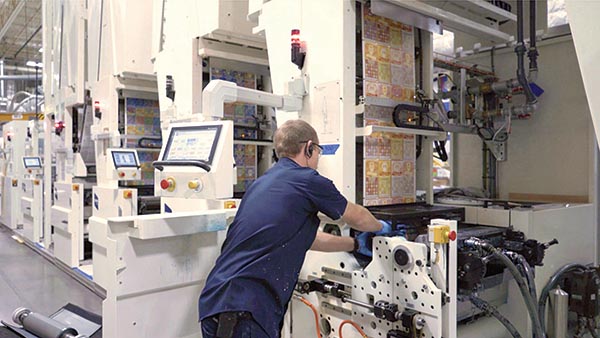 Their bespoke presses were specially designed to print 21 different "color plates" using a variety of printing and embellishing technologies on the front and back to support the enhanced graphics and high levels of security required. In essence, they are printing a form of currency. Without going into all of the detail (which I can't), I can say that on these application-specific presses they are using a minimum of flexo and inkjet.
Bespoke solutions are moving print from a stand-alone process to become a part of the product manufacturing process. Direct object printing of bottles, cans, and other containers on the production line are replacing label applications and will continue to grow to allow FMCG (Fast Moving Consumer Good) manufacturers the content and time flexibility required to support the changing market requirements. Changing market demands go beyond the packaging process itself to packaging types, repackaging and how they need to change to support the new distribution demands. Designed well, purpose-built bespoke solutions provide more cost-effective and timely solutions with fewer setups and less handling. This concept is evidenced in the HP and partners pouch factory for under $3 million.
We are also starting to see more digital print solutions in place of flexo as they are increasingly available to satisfy the requirements of shorter on-demand runs. Granted, the electrophotographic and inkjet solutions currently available are slower than flexo, with limited production capacity compared to flexo. However, that is not necessarily a bad thing, because it allows you to create focused and more optimized production processes based on specific requirements instead of trying to fit work with different requirements into the same production processes. Designed well, that could provide more cost-effective and timely solutions with fewer setups and less handling.
By using component technologies, you can almost build bespoke solutions like you would with LEGO. This is the approach that HP has been taking the label and flexible packaging market. Their Indigo print engines come in a variety of sizes and speeds but are all basically the same imaging engines. In order to offer the market the added value of digital print, they have been working with many other solution partners to develop purpose-built solutions. These include a number of label types, shrink tubes, a variety of flexible packaging and more recently, pouch production. This creativity in purpose-built solutions is forcing flexo providers to partner with both digital and finishing providers like AB Graphic International to follow the HP lead and become more competitive.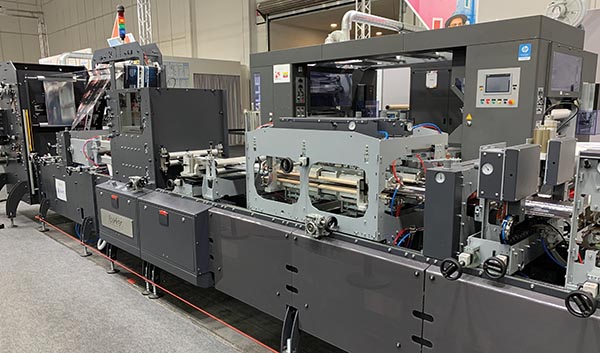 Memjet OEMs like Colordyne and others are increasingly integrating their printheads into a variety of different machines to support a variety of stand-alone print applications, as well as print as a function of product manufacturing, including 3D.

Ultimately, if we are going to achieve the dream/reality of "Industry 4.0," this type of production approach will have to become more mainstream.
The industry is ready. Packaging industry trends seem to indicate a desire to run more operations inline to minimize handling and waste, and to keep turn times low for the increasingly short-run jobs. Interestingly, the packaging market is having many of the same discussions that commercial print had been having for years: inline, nearline, offline, and when does it make sense to create a complete purpose-built production line?
Kodak, no stranger to inkjet, has worked with partners Graphic Systems Solutions (GSS) and Tresu to integrate new or refurbished flexo stations to enable the combination of digital and flexo printing. The best example is the installation at Zumbiel Packaging, where GSS-refurbished Stevens graphics flexo stations allow Zumbiel to leverage the benefits of lower cost flexo inks for most of the package, while adding digital inks where it is needed on their folding carton press. This model has helped Zumbiel control its costs and provide more economical and lower minimum order quantities to its clients.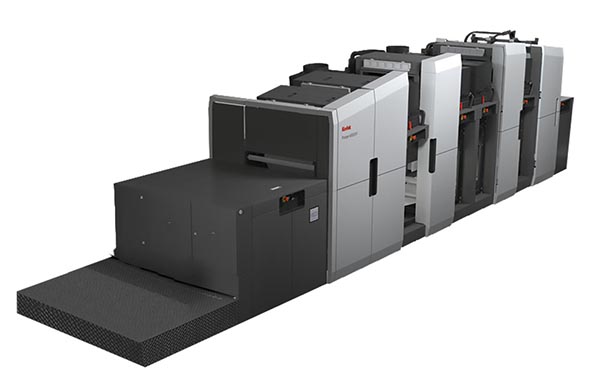 Kodak Prosper 6000 hybrid configuration.
This type of configuration would require about six to eight months of engineering preparation for installation, at a market price 25% to 30% below other production inkjet presses now in the market, but with the capability to run at 650 fpm, much faster than these other inkjet digital solutions.
Digitization of controls has allowed many of these printing, finishing, and embellishment technologies to shrink in size and adapt to the new integration requirements. In the case of labels and packaging, the large amount of finishing variants and packaging requirements dwarf those in commercial printing, so it may make sense to develop more purpose-built systems and components, but we will see technology cross over to other print applications.
These hybrid and bespoke systems are not just relegated to inline flexo transports, Kodak is currently working under NDA with a number of CI press manufacturers to design the configuration of mount + head+ dryer systems closer to the central impression cylinder. Interestingly, HP Indigo is moving from CI to inline imaging with their new LEPX V12 label press, so ultimately there are few limits to what can be envisioned and built with flexible components and integration.
Ink and media barriers that have held back some of the growth in production inkjet and toner imaging are being broken down to further expand the capabilities of new solutions.
Kodak has been further enhancing solutions for inkjet imprinting on film as a result of development on the EVO presses with UTECO.  Currently expanding their offering is limited to the initial few accounts that are now field testing these new inks in the market, so they can validate these benefits. Memjet has been working on similar types of solutions as well, and we can expect EFI and HP to continue their efforts in ink and media flexibility along with supporting production machines. We expect all of these efforts will increase number of installs for imprinting on film for flexible packaging, folding carton, corrugated substrates and direct-to-object.
These types of flexible bespoke component systems require flexible software and workflow solutions as well. Many of the workflow vendors including Hybrid Software, Esko, and Enfocus are positioning their products to address this type of purpose-built manufacturing, with flexible and configurable solutions to support the array of disparate equipment components required to make this all happen. Using endlessly configurable rule-based pipeline workflow platforms, these automation systems provide the process communications links to connect disparate business and production systems tailored to the specific needs of a converter.
Ultimately, if we are going to achieve the dream/reality of "Industry 4.0," this type of production approach will have to become more mainstream. Is this the solution for all print and packaging manufacturing? Maybe not. Obviously, if your business is not producing short runs, or if you have a mix of short and long runs, you probably need an analog (flexo) solution, or both, depending on business requirements.
Summary
There are a lot of hybrid solutions out there and more being developed each day. This is being facilitated by an increasing number of components to support the variety of print manufacturing requirements. The whole hybrid evolution today is really just a part of the industry's digital transformation and transition to the real end game—purpose-built or bespoke solutions. It may not be the solution for all print and packaging manufacturing; however, it will undoubtedly make a dent and continue to grow.